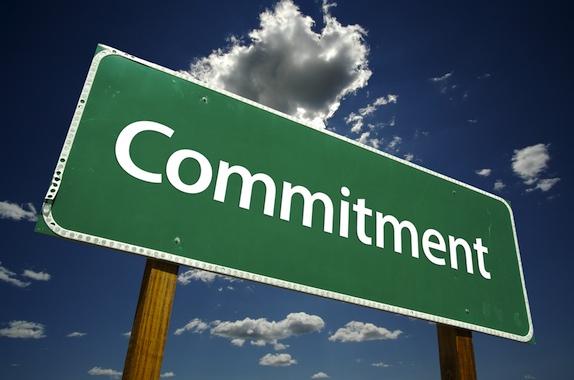 Until one is com­mit­ted there is hes­i­tancy, the chance to draw back, always inef­fec­tive­ness. Concerning all acts of initiative (and creation) there is one elementary truth, the ignorance of which kills countless ideas and splendid plans: that the moment one definitely commits oneself, then providence moves too. All sorts of things occur to help one that would not otherwise have occurred. A whole stream of events issues from the decision, raising in one's favour all manner of unforseen incidents and meetings and material assistance which no man would have dreamed would come his way. I have learned a deep respect for one of Goethe's couplets: "Whatever you can do, or dream you can, begin it! Boldness has genius, magic, and power in it." ~W.H. Murray
Over the years, I have grown to love this quote more and more, because I find it to be completely true. In order for us to create great changes in our lives, businesses and communities, we have to be committed to doing what it takes to achieve results. The truth, however, is that most of us operate from a space of hesitancy. Let's face it, hesitancy is just another word for fear.
Have you ever asked yourself what would begin to open up in your life, or your business if you could make the choice to embrace the power that comes from commitment? Let's discuss it here.
Once we are committed to what we really care about, we become bolder, more passionate agents of change. If all of us began to live and work informed by our willingness to identify and commit to what we really valued, a sense of security would begin to inform the way we make decisions and it would have a tremendously powerful impact on our world.
One way to overcome hesitancy/fear is by employing a Commitment Strategy. Here's how it works:
Whenever you find yourself hesitant or afraid of taking on any particular challenge, whether it be in your personal life or in your business, ask yourself three questions:
1. What am I really afraid of?
2. What am I more committed to than this fear?
3. What's one action I am willing to take to move beyond this fear and honor my commitment?
The answers your receive by asking yourself these questions will not only inspire you, but empower you to take action.
When Identifying and committing to what you truly value becomes the strategy for attaining your desired results in life, you will find that you become more willing to do what it takes to move forward–no matter how long it takes.
Always remember that while commitment opens the door to change, it is the willingness to re-commit again and again that gives transformation true staying power.